WHAT MADE MILWAUKEE FAMOUS: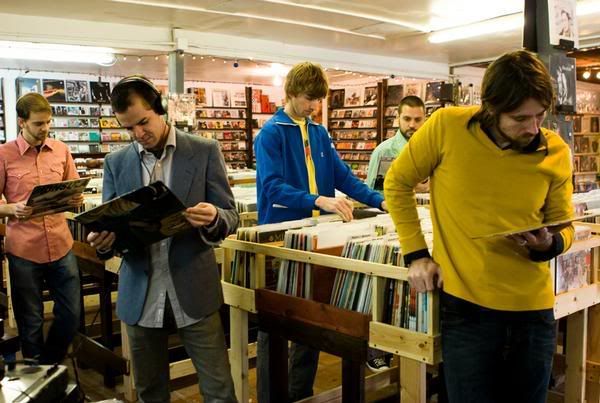 First up we have up and comers in the indie/power pop realm, What Made Milwaukee Famous. Extremely catchy at most times (listen to the song "sultan" I immediately got hooked) and other times, very hush and soft, singing sweet lullabies of the indie persuassion. Seriously get on board, these guys will be making big noise soon here.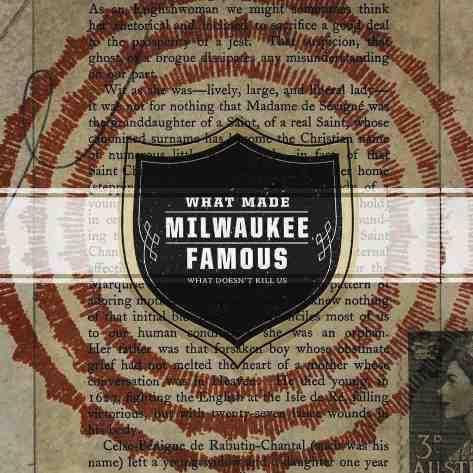 This is what the press has to say about WMMF:
""What Doesn't Kill Us" exemplifies the rococo ideal that no pop filigree will go unused. Is this a bad thing? I think not. New wavisms turn up alongside the kind of '70s power ballads that shamed many, but serve as a suitably ironic backdrop for Michael Kingcaid's easy lead vocals (although when he pulls out the stops… watch out! He's one of rock's overlooked vocal commandos)." - Los Angeles Times
""Middle of the Night," an instantly memorable anthem that places its "What you need is love, sweet love" refrain atop a bed of layered acoustic guitars and ornamental piano arpeggios. What doesn't kill us clearly makes for a strong sense of melodic arrangement." - Slant Magazine.com
"Surrounded by shifting, muted post-punk guitar chords and minor-key keyboard twinkling, vocalist/guitarist Michael Kingcaid croons through lo-fi sheen, "Hey, weren't you told / How brutal life can be?" before the rest of the band rips into a soaring, guitar-and-saxophone-laden build up." - SPIN.com
"Guitar muscle, ferocious drumming, commanding vocals, and hook-laden tunes: no sophomore slump here. Austin's What Made Milwaukee Famous took its time with the follow-up to its 2004 debut, and it was a wise move." - Texas Monthly
"I Decide"
"Prevailing wind"
"Selling yourself short" 1st video for this band
"Sultan" Most recent video for this band
For more info on What made milwaukee famous please visit their sites
www.myspace.com/whatmademilwaukeefamous
www.whatmademilwaukeefamous.com
THE LONG WINTERS:


Next up we have label mates of What made milwaukee famous, The Long Winters. Less on the poppy side, these guys focus more on intimate song writing, and softer narratives. Some very talented musicians that have been around for awhile now, and with little recognition. If you are into great indie bands like The Shins, Death Cab For Cutie's earlier stuff, and Kind of Like Spitting, then this band will win you over.
"Fire island, AK"
"Pushover"
"Blue diamonds"
If you would like more info on The long winters please visit their sites
www.thelongwinters.com
www.myspace.com/thelongwinters
DAWN LANDES:
Now we have indie/folk singer/songwriter Dawn Landes. This girl has just the right mix of young raw-ism coupled with a deep soulful feel that can usually only be found with someone more aged. This girl really wears her emotions on her sleeve, and can certainly belt out her aggression on stage, but she also has the ability to warm your soul over, and make you feel happy and loved. Seriouslt give her a chance if you are into, Jenny Lewis, Rilo Kiley, Lucinda Williams, Cat Power, and the likes.
Taken from her myspace page-
"Dawn's music comes from the mouth, mind and hands of New York-based singer-songwriter Dawn Landes. Reminiscent of the raw traditionalism of Woody Guthrie and the experimental alt-folk lyricism of artists like Joanna Newsome, the Louisville KY native plays a variety of instruments (8-dollar guitars! pink accordions! glockenspiels! optigons!).
Whether she's performing by herself or with accomplices (members of the bands Hem and The Earlies), her live show brings moving silence to the crowd and has caught the attention of a number of popular touring artists who've taken her on the road. In addition to her gig performing with Rounder recording artists Hem (backing vocals and Glockenspiel), Dawn has supported the likes of Midlake, Jose Gonzalez, Suzanne Vega, Le Tigre, Andrew Bird, Feist, M83, Josh Ritter, Jane Siberry and Shannon Wright.
Dawn recently finished her second full-length album "Fireproof" which will be released Jan 2008 in Europe by Fargo Records, and Feb 2008 in the US by Cooking Vinyl Records. Dawn's first self-recorded and self-produced album "Dawn's Music" is now available in Europe through UK label Boyscout Records, and can be purchased in America if you go to a show (or online iTunes or cdbaby.com). Boy Scout also released an EP called "Two Three Four" in Europe summer 2006. Dawn will be touring Europe for the remainder of 2007 so be sure to check back for tour dates.
Oh, we almost forgot! Dawn's day job is as a recording engineer, working with such renowned artists as Hem, Philip Glass, Joseph Arthur and Ryan Adams."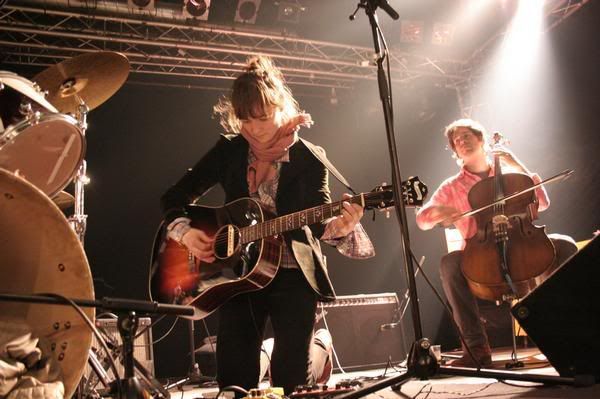 "Young folks (bluegrass version)"
"Suspicion"
"Twilight"
"Bodyguard"
For more info on Dawn Landes, please visit her sites
www.dawnlandes.com
www.myspace.com/dawnlandes
BAT FOR LASHES:
So, Bat For Lashes, an amazing UK trip-hop group, with something more to offer than most groups of the trip-hop genre. This group is what would happen if Lady Sovereign, Cat Power, Feist, and Portishead got together at a RJD2 concert. Amazingly dreamy in sound, with the feel of a late 18th century ghost story. If you are a fan of the above mentioned artist in this write-up, I suggest giving Bat for lashes a listen!
"natasha khan of bat for lashes ain't scared. i love the harpsichord and the sexual ghost voices and bowed saws. this song seems to come from the world of grimm's fairytales, and i feel like a wolf."-Thom Yorke on the song "What's a girl to do"
"Trophy"
"Horse and I"
"Whats a girl to do" (This is probably one of thee coolest videos!)
For more info on Bat For Lashes, please visit her sites
www.myspace.com/batforlashes
www.batforlashes.com
VERSE:
Do you remember the gamout of political hardcore bands that surfaced around the early to mid 90's, that would leave you stunned when you heard or saw them, but also made you realize that there is something more, and that you needed to be better informed of the world's current situation? I sure do, and I miss the days of bands that had truely something positive and meaningful to say. Finally I am able to have that feeling again, and I owe a great deal of thanks to one of the most hard working bands of today, Verse. Verse plays a style of hardcore very remineciant of early bands like Gorilla Biscuits, Trial, Unbroken, fused with newer bands like Have Heart, The Effort, and Champion. If you are a fan of energetic, meaningful, fast hardcore and/or the above mentioned bands, please give Verse a chance. They have just recently been signed to Bridge 9 Records, so if you don't know, get into them now, before the mass of mall-core kids discovers them.
"Waiting on a revolution"
Verse at the Rivalry Records showcase 2005
For more info on Verse, please visit their sites
www.myspace.com/verse
www.verseprovidence.com
RUINER: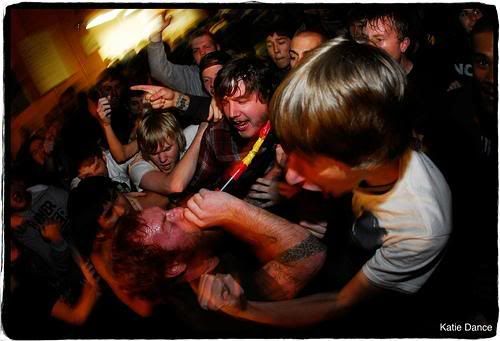 Up now, we have the hardcore band, Ruiner. One of the few honest, hardworking hardcore bands out there these days. With more poetic lyrics than the cliche crap of lyrics hardcore bands are using today (Rob Sullivan's lyrics tend to remind me of Wes Eisold in the days of Amercian Nightmare). These dudes tend to play music akin to Modern life is war, Panic, and American Nightmare, and if you are a fan of these bands, you must check out Ruiner.
Taken from the Bridge 9 Records site-
"Baltimore, Maryland has never been known for its beauty or charm. With a strong D.I.Y work ethic, an honest and sincere outlook, and not to mention a machine-like touring regiment, Ruiner has been breaking barriers since their first show in October 2004.
Before releasing their first LP Prepare to Be Let Down in June of 2007 on Bridge Nine, Ruiner already toured the full United States four times, parts of Canada twice and three times to Mexico. They played a little over 200 shows in their first year and a half of existence, all of which were booked with out the help of any booking agent. Topping off the bands second year, 2006 saw them head to Europe for 31 shows in 10 different countries.
It�s fast, melodic, angry, and as heartfelt as the bands of yesteryear. Yet never expect this band to begin a set by preaching about their role in hardcore. The fire that feeds them is their own. It is pure raw human emotion. You can not fabricate this type of intensity, nor can you stop it. The road traveled by these five has been and always will be by their own design."
"Paint peels"
In daytona beach, FL.
Ruiner interview conducted by Carter for Monument webzine (PLease check them out for radical interviews with artists and bands! http://monumentzine.blogspot.com)
Ruiner Interview
Carter: What does the title of the new record mean?
Rob: Well at first we weren't going to use Prepare to be Let Down as the title. We just didn't like the original title as much. As the artwork was getting finished we just went with that, which also happens to be the title of the first track. Just goes along with the entire feel of this band. Never expect life to just hand you things, always count on the worst case scenario. The Ruiner camp is a negative bunch of dudes…
Carter: What was touring Europe like? Do you have any interesting stories from the trip?
Rob: It was pretty mind blowing to say the least. You realize how much you can hate your closest friends. Ok that's not totally true. But it gets kind of difficult to only be able to really communicate with the same 4-5 dudes all the time. A lot of this new record came to be because of that trip. Most of the music was written but lyrically I spent a lot of time changing things and finishing songs over there. I have tons of stories but nothing that would really interest anyone, in my opinion. I will say the treatment in Europe is incredible. You get fed almost all 3 meals for each show. Being a big fan of food I was pretty excited about this.
Carter: What thing do you think the band ruins the most?
Rob: Each others lives…
Carter: Are there any places that you would like to play next that you haven't been before?
Rob: We are hoping to play Japan and Brazil next year, as well as Australia hopefully. I mean our main focus as a band is to tour everywhere we possibly can.
Carter: Were there any changes in songwriting between 'What Could Possibly Go Right' and 'Prepare to Be Let Down'?
Rob: We have a new drummer so the drumming is a little bit more straight forward. For the most part it's roughly the same. It's heavier in parts and much faster in others. It's a good progression I think.
Carter: Does the band have any direct influences for your sound or does it just play off of ideas you get from each other?
Rob: We just play off of each other for the most part. The writing process in this band is a difficult thing. We tend to trash a lot of stuff and start from scratch a lot.
Carter: Are there any bands in which you would really like to play a tour with?
Rob: Not really any specific bands. We just want to tour with our friends and have a good time.
Carter: How has being signed to Bridge Nine been so far for you?
Rob: It's been great; Chris and Karl are great dudes. We couldn't be happier to be where we are right now.
Carter: In ten years could you imagine there being a band that would cite Ruiner as a major influence?
Rob: Umm I guess so. I mean we cite bands as influences that existed in the last 5 years. Shit I could cite local bands we came up with as influences. You don't have to be the staple bands to influence someone's musical interest and taste.
Carter: What was the most memorable show that you've ever played?
Rob: The release show for our first 7" was pretty crazy. It was also Never Enough from Baltimore's last show. So a lot of memories went into that one. We did this acoustic set playing Black Sabbath and Black Flag covers once here in Baltimore. I don't think I will ever forget that show.
Carter: Who did the artwork for the new album and 7"? Did the band have input on the imagery that is portrayed?
Rob: A guy named Greg Houston, an amazingly gifted and odd individual. We didn't really have that much import. We checked out his work and liked a piece he did so pretty much he took that idea and went with it.
Carter: Are there any songs from the new record that stand out to you personally?
Rob: The last 2 tracks are my favorite songs off of it. I think Sleepless is one of my favorite songs. Every song stands out to me at some point in my day to day life.
Carter: If you had to describe Ruiner in one word what would it be?
Rob: EATSHIT
Carter: Does the band have any rituals or hobbies that they do in the van between shows?
Rob: We sometimes play the movie game. That's where you try to connect people from different movies. For the most part we sleep a lot. We just got this shuttle bus thing so that will probably change the way things go for us I'm sure.
Carter: Are there any bands that you think are underrated right now that are worth checking out?
Rob: I don't know about underrated but Pulling Teeth are great. Sick Fix from the DC area also. I think Another Breath from Syracuse deserve a bit more respect. Also the same can be said for How We Are from Rochester, sadly they are breaking up this summer. I'm sure I could think of more but whatever.
Carter: What do you think about interviews?
Rob: I hate them. Just because most people ask me the same fucking questions that can be found on our website/myspace. I like this one though. Honestly I just take forever getting to them and if the questions aren't interesting I'm never compelled to start cause I don't want to respond with lame answers. Someone is probably reading this right now and saying "well these answers don't exactly rule" well I'm sorry its late and I've been listening to Danzig II for about the 40th time now.
Carter: If somehow the band was all trapped on an island with no food, which one of you do you think would be the first to offer that the other guys eat his body to survive?
Rob: I will have to say none. We would probably decide on a fight to the death. Which would make the whole band turn on me first then fight amongst them selves. In the end I would imagine Steve or Joey winning.
Carter: Finally I just wanted to know what could possibly go right?
Rob: In the end... Nothing
For more info please visit the their sites
www.myspace.com/ruiner
www.youruiner.com
SOLE: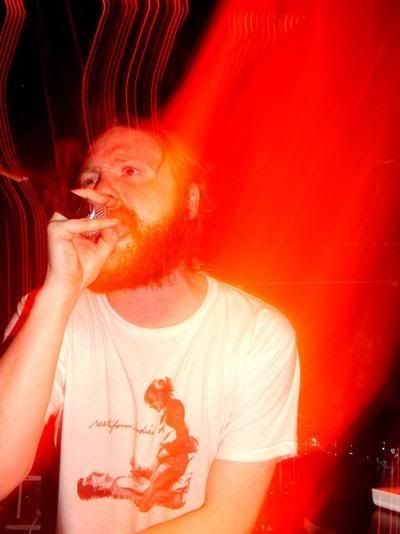 Now we have one of my favorite poet/hip-hop lyricist, Sole. Maine native, who has gone on to form avant-garde hip-hop/art label Anticon Records, home to great acts such as Alias, Thee More Shallows, Jel, and Sage Francis (before he went on to epitaph). This dude writes politically charged, emotional (not Emo) indie hip-hop. If you are a fan of Sage Francis, and haven't heard Sole yet, do yourself a favor, and learn how Sage Francis got his whole style and aestetic.
Taken from myspace page-
"With some fairness, Sole's musical arc to this point might be described as a series of battle raps whose range of targets has gradually widened. His early work, beginning with his demo of 1992 (which included such hits as "Cops Ain't Shit") was deeply beholden to the New York rap of that era, Lord Finesse most especially. After all, his first album, self-released in 1994 when he was but sixteen, was entitled, Mad Skillz and Unpaid Billz. Though the plural "z's" were dropped from future releases, the forceful language and aura of overconfidence vital to classic battle rap remained. His proper, post-adolescent albums, Bottle of Humans (2000), Selling Live Water (2003), and Live From Rome (2005) each mixed traditional rap aesthetics with a more original and highly poetic approach with growing sophistication.
Live From Rome, the recording of which spanned a near nervous breakdown, a providential marriage, and a move to Barcelona, was a transitional record, personally searching and politically embittered. That period was epochal for Sole, particularly his alternately disturbing and exhilarating experiences touring Eastern Europe and Israel with his wife, Yasamin. They stumbled across a cache of anticon bootlegs in a tiny outdoor market in Moscow, were caught in the middle of the 2005 church and mosque-burning riots in Belgrade (while they watched the chaos on CNN, tear gas filled their hotel room), bribed crooked Serbian police for their freedom, and hosted a radio show on the Israeli Army's Radio Station, on which Sole pumped Gregory Corso's reading of his long poem, "Bomb," and Public Enemy's "Louder than a Bomb." His return to American soil after nearly two years was occasioned by his participation in Sage Francis's Knowmore.org tour of 2006. He was surprised to find that his homeland had not yet fallen to Brownshirts, and he and Yasamin decided to stay and make a home in rocky Flagstaff, Arizona.
Though Sole had spent most of his career working with celebrated producers—primarily Alias, Odd Nosdam (of cLOUDDEAD), and JEL (of subtle)—by 2005 he had for some time been looking for a working relationship with a more exclusively focused yet also uniquely talented group of musicians. His solo instrumental work, released in 2005 on Morr Music and in 2007 on anticon as mansbestfriend, and his yearlong collaboration with half of Barcelona's Tortoise-like improvational outfit Twelve were aspects of this search. On tour with Dosh, Pedestrian, and Telephone Jim Jesus in 2005, fate landed the caravan at the tropical home of Bud Berning, an electronic musician and dub drummer then recording solo work as SkyRider. Intrigued by SkyRider's sound, Sole later returned to Orlando on a short tour of the Southeast and collaborated with Berning and two musicians who had recently joined the Skyrider fold. Not naturally attracted to music born of machines, Bud had only begun tinkering with computers while immobilized after a coma resulting from a traumatic collision in Mexico City in 2002. The two instrumentalists Berning recruited, Tennessee native John Wagner and omni-instrumentalist William Ryan Fritch, not only fleshed out Berning's sample-based ideas, but also added their own distinct musical voices. As Sole and SkyRider played, sparks struck, and Sole had the quickness of mind to immediately invite SkyRider to move to Flagstaff and record an album.
Against all odds, the band accepted the offer and before long found themselves sharing a house in Flagstaff. Nearly the moment they arrived, SkyRider began playing and recording intensely at Sole's studio, set at an eight thousand foot elevation at the foot of a mountain amid a garden of collard greens, melons, and green beans. Sole promptly scrapped the ten or so songs he'd already recorded towards an album—with a formidable line-up of producers, no less—and devoted himself fully to realizing the distinct sound he'd long heard only in his own head and further sharpening his art of battle rapping the biggest of enemies: empire, ennui, the industries of distraction, and, not least of all, himself.
Released October 23, 2007 on anticon records."
"Dumb this down"
Interview/video about Sole and the Skyrider Band
Very early video for "Bottle of humans"
"Stupid things implode on themselves" New video of the newly formed Sole and the skyrider band
"Ghosts assassinating other ghosts" Sole and the skyrider band live in Zagreb, Croatia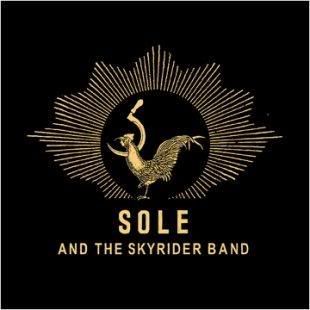 www.myspace.com/soleandtheskyriderband
www.soleone.org
www.myspace.com/timholland
RJD2: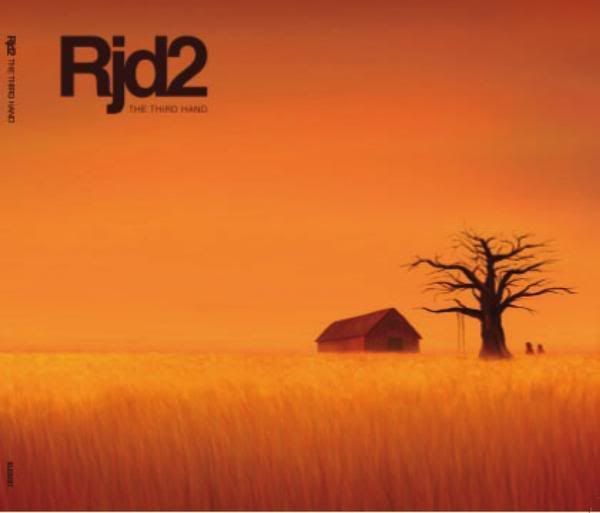 Rjd2, one of the best dj/producer/samplist ever. Do you remember that feeling you got when you first heard DJ Shadow? My first time hearing Rjd2, was exactly like that. His infectious trip-hop influenced instrumental music, struck a chord with me, I could clearly hear what he was trying to say, and he didn't even need lyrics to convay his point. His music is sometimes fun, sometimes, scary, sometimes soothing, and sometimes motivating. Are you looking for that perfect cross over music that would appeal to skateboarders, graffiti writers and indie kids? Well, now you have it. I highley suggest listening to Rjd2 if you are into DJ Shadow, DJ Spooky, UNKLE, DangerMouse and the likes.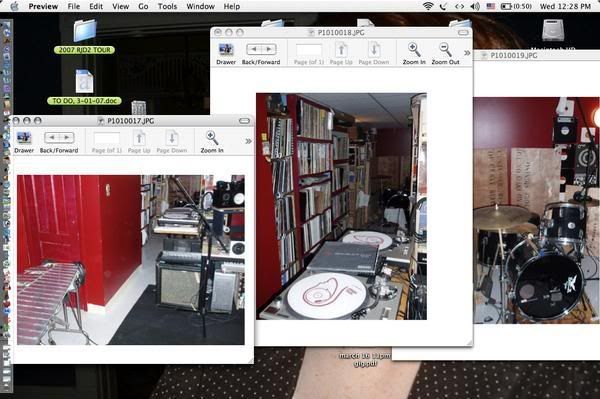 "Sweet piece"
"Final frontier (remix)"
"Work it out" Music video
"Exotic talk" Music video
For more info on Rjd2, please visit his sites.
www.myspace.com/rjd2
www.rjd2site.com